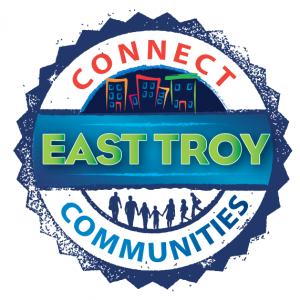 Our Mission is –  East Troy Connect Communities is a state of Wisconsin supported effort to create and promote an economically healthy and robust downtown district.  We are a group of passionate citizens who are dedicated to fostering growth and development in our community through organization, promotion, design and economic revitalization.
First Fridays
There is now an extra incentive to spend Friday nights in East Troy with the debut of this year's First Fridays events, May-December, 4-7 p.m. in downtown East Troy.
"First Fridays are an exciting way to celebrate everything our town has to offer and reconnect locals with the businesses we have here," said Vanessa Lenz, East Troy Area Chamber of Commerce Executive Director. "Participating business owners will offer specials, coupons, demonstrations, featured menu items and more."
Connect Communities, an East Troy organization that works to drive downtown revitalization, is partnering with the East Troy Area Chamber of Commerce to host the series of events.
Each First Friday event will feature a showcase event at East Troy Village Square Park with surrounding local businesses collaborating to bring an afternoon and evening of fun.
First Fridays will run along with the East Troy Farmers Market, now in its eighth year, from 2-6 p.m. at East Troy Village Square Park.
To participate, call (262) 642-3770 or email vanessa@easttroy.org.
---
2016 First Fridays Schedule
MAY 6- KICK OFF KITE FLIGHT
Meet at 4:30 p.m.at the south side of the East Troy Village Square to decorate a beautiful kite.Join us for a grand launch of kites & bubbles to kick off our 1st First Fridays event.
JUNE 3- MILWAUKEE BALLET DAY
Join us for a fun way to keep moving this summer, including an interactive dance workshop and performance by the Milwaukee Ballet dancers at East Troy VIllage Square Park, 2881 Main St. at 5:30 p.m.
JULY 1- THE BIG PICNIC
Celebrate the United States of America's birthday early and the Dave Matthews Band concert with a community-wide picnic at East Troy Village Square Park.
AUG. 5- MARKET TO TABLE DEMO
Stop by East Troy Village Square Park for cooking demo by Chef John Hudoc of Hometown Sausage Kitchen featuring the seasonal bounty of the East Troy Farmers Market.
SEPT. 1- FOOD TRUCK FEST
Tempt your taste buds with this mix of the areas best food trucks and local restaurant vendors.
OCT. 7- DIY ART
Pottery and jewelry making demonstrations will take place from 4-7 p.m. at East Troy Village Square Park.
NOV. 4- ART WALK
A collaboration of local artists, galleries, non-profits and businesses to celebrate the arts in East Troy.
DEC. 2- SANTA SCAVENGER HUNT
Prepare for Santa's arrival in East Troy on Saturday, Dec. 3 with this Square Scavenger Hunt featuring unusual challenges and creative tasks.
---
What is Connect Communities?
Downtowns and urban commercial districts play an important role in their communities and in Wisconsin's overall economy, functioning not only as prominent employment and business centers, but often standing as the historic foundation of the communities they serve. They are also usually the meeting places for the community. The communities and their business districts have changed dramatically over the years, and some downtowns need a boost or maybe a complete management system to lead the turnaround. Connect Communities is a way of offering resources and networking opportunities to local leaders and members of the community interested in revitalizing their downtowns.
View more information on Connect Communities
---
Connect Communities is only possible through a volunteer-centric program. Volunteer opportunities include, but are not limited to: fundraising, real estate development, budgeting, and volunteering at events. If you would like to be a part of the Connect Communities Volunteer program, please fill out a volunteer application.
Volunteer for Connect Communities
---
Explore Event Ideas
Need ideas to help make your small business celebration special?
Scavenger Hunt – encouraged people to visit more local small businesses by creating a scavenger hunt on the day
Shop Small Selfie – organize  a selfie event that lets people show support for small businesses with more than a purchase
Passport – get more shoppers into businesses with a "

Small Business Saturday

Passport"
Kick-off Breakfast – cook one up in your community to bring shoppers out bright and early to support small businesses
Download these Event Guides inspired by past Neighborhood Champions, courtesy of American Express
---