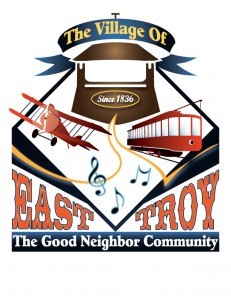 The area of East Troy was first settled in 1836, when a man named H. Roberts began construction of a saw mill on the shores of Honey Creek. The area grew very rapidly and the next four years saw the establishment of a hotel, general store, blacksmith, chapel, school, post office, doctor, lawyer, and justice of the peace.
East Troy was originally known as Troy after a place called Troy, New York, from where many of the settlers originated. It was decided during 1843 that Troy was too large of an area for one township and the territory of Troy was split by the state legislature. The Western part was renamed Meacham, after an early settler and the eastern part remained Troy.
This arrangement was deemed unsuitable to the western portion, including Jesse Meacham, for whom the area was named. Meacham set out for the capital to reclaim the name of Troy. There is a legend that Jacob Burgit, an early settler and representative of the Easter territory, heard of Meacham's trip, and set out for the capital to argue his own case for keeping the name of Troy for the east. However, Burgit arrived too late and the the name of Troy was given to the west. The east was then renamed to East Troy, as it remains today.
The village of East Troy was officially platted in 1847. All of the land south of Main Street belonged to Burgit, who purchased the claim in 1837, built the saw mill, and later built a grist mill, which helped to develop flourishing business in the area. Austin McCracken owned all the land north of the Main Street, as he came to East Troy in 1836 and built the first public inn of Walworth County. This public inn was built of log and was located in the same site where the East Troy house now stands.
In an effort to stimulate growth in the community, Burgit and McCracken offered a free lot to anyone who would build there. They set aside land for churches, a public square, and parks. Today, the village square is a centerpiece for the community. The square hosts festivals, band concerts, and any visitors who wish to partake its historic beauty.